Cooking
The island cuisine is one of the aspects of our culture that visitors generally know least about. It is however, highly interesting and can provide some very pleasant surprises for anyone who fancies a change from their usual diet or the dishes on offer at many international restaurants, whilst they are on holiday.
Canary Island cuisine is very simple, but full of its own genuine flavours. The climate - with all the different microclimates - and the traditional produce of the islands are the main factors that have influenced the traditional dishes of Canary Island cooking.
Please click on the
Downloads zone: "Cooking and typical products".
Fish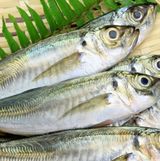 The fish here is delicious and, according to critic Xavier Domingo, it is just as good as any in Spain. Dishes are usually very simple; boiled fish - or "sancochado" as they say here - seasoned with oil, vinegar and hot peppers, or with "mojo" - the typical local dip. There are different versions of "mojo", but you will always find it on any self-respecting table in the Canary Islands. There is green - coriander - mojo and red, or hot mojo. The most popular fish here among the local people is parrot fish, with its delicate, white flesh, but other tasty fish include snapper, dentex and saupe. Members of the tuna family abound in the waters around the islands. They are delicious served fried, grilled or soused: chub mackerel, sardine and especially blue jack mackerel (chicharro in Spanish) which has become a nickname for Santa Cruz and by extension for the whole island. The people of Tenerife are known as "chicharreros". There is one marine species that must not be missed: the Moray eel, fried and crunchy, it was the favourite dish of Roman Emperors and, for some reason or another, it has been neglected by modern gourmets. In the cooler, damper parts of the island, a fish stew is ideal, usually dusky or comb grouper, served with the fish stock, thickened with "gofio": flour made from ground and toasted corn.
Meat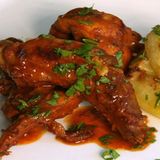 In the meat section, mention must be made of a dish called "carne de fiesta" (festival meat), which consists of, chunks of seasoned pork. It owes its name to the fact that it is the dish that is usually served in all the popular festivities, served from stalls and bars during the village fiestas. Goat´s meat, in all its different varieties, and rabbit in "salmorejo" sauce which, like most of the fish dishes, is served with "papas arrugadas" - potatoes boiled in very salty water and served in their jackets to conserve all the flavour of the outstanding island varieties of potatoes. These come in all sizes, textures and colours, although the best ones are "bonitas" and above all, the "negras menudas", dark on the outside, yellow on the inside, they are delicious.
Desserts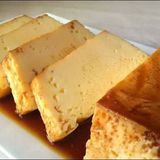 Canary Island confectionery is rich and varied, maybe because it is the final dish of a good meal. "Huevos moles" - egg yolks, sugar, cinnamon and lemon peel, "bienmesabe" -almond paste/sauce - and whey are just some of the typical desserts to be found in Tenerife. Many of these dishes can be served with a topping of palm honey; originally from La Gomera, it is made by boiling the sap from the highest most inaccessible part of the palm tree.
Cheeses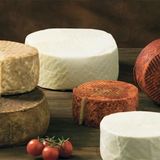 Fresh goat´s milk cheese is often served as an hors d´oeuvre to the main course. The cheeses of the Canary Islands are recovering their good reputation, they have won important prizes and awards in recent international dairy shows. Up until the 40´s and 50´s, when there were large herds of cattle on Tenerife, cheeses were made from varying portions of cow´s milk mixed with goat´s and sheep´s milk. Nowadays, goat´s milk cheese predominates, which can be 100% goat´s milk, or mixed with sheep´s milk, which makes it creamier. It is sometimes still mixed with cow´s milk as well. Although it is sometimes matured, and occasionally smoked, cheese is usually served fresh, as it has a pleasant and mild flavour, distinguishing it from certain European varieties of goat´s milk cheese.
Mojos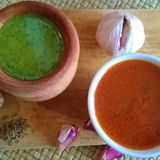 "Mojo", a word probably of Portuguese origin, is the Canary Island term for their typical sauces or dips. Not all sauces are called "mojos", just the typical ones that are originally from the Islands, so, for example, there are no mayonnaise "mojos", that would be a sauce, but there is a coriander "mojo". The best known "mojos" are coriander - or green - "mojo", although the green colour comes from the parsley it contains, "colorado" - or red - made with lots of paprika, and hot "mojo", made from chilli pepper. These are the main "mojos", but there are others, including ones made with saffron and cheese and almonds.
Gofio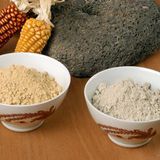 "Gofio" is a flour that can be made from almost any kind of grain. It is toasted and ground to give a fine, wholemeal flour. In Tenerife the most common "gofio" is made from wheat, although it is also made from corn and occasionally from chick peas. There is also a "gofio" made from a mixture of wheat and corn. "Gofio" was the staple diet of the Guanches before the Spanish conquest of the Islands. They used mill stones to make it. Nowadays it is used as an added ingredient to many different dishes, and is now even being used very successfully to create new desserts and ice creams. It was always a vital staple when food was in short supply and was taken to the Americas by Canary Island emigrants. In 1990, the "Canary Island Gofio Producers Association" was founded, which has successfully promoted gofio and won it its own quality label "Gofio Canario".
Votos(s): 47. Resultado: 4.26