Altavista Refuge
Altavista Refuge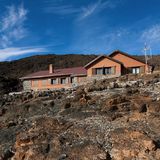 The Altavista refuge, situated at 3270 m, consists of two buildings and it is equipped with an infirmary, storehouse, showers, kitchen and three dormitories with a capacity for 54 mountaineers. The original refuge was built in 1892 on the initiative of an English explorer living in Tenerife.
The Island Cabildo (Island Government) took over this facility in 1950 and refurbished it completely in 1997 and 2007. The maximum stay is limited to ONE night. The rooms are heated and beds are fully equipped with sheets and warm quilts, so you don't have to bring a sleeping bag. It has toilets and washbasins, without showers.
The Refuge sells hot drinks, soft drinks and water and it is also possible to heat up food.
Reservations online: Refugio de Altavista
The climb starts at the base of Montaña Blanca, at an altitude of 2200 m.
Important: People spending the night in the Altavista Refuge DO NOT have to apply for a permit to climb Pico del Teide if they set out on the final ascent to the crater early to see the sunrise. All they require is a copy of the application with a stamp confirming that they have spent the previous night in the Refuge. These people must have left the Telesforo Bravo trail by nine o´clock in the morning.
Anyone wishing to use the aforementioned trail after 9 a.m. will need to apply for the permit:
The Shadow of Teide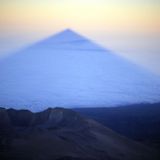 At day break, Teide projects its majestic silhouette over the surrounding seas, a phenomenon that is known as "la Sombra del Teide", or the Shadow of Teide.
The Shadow of Teide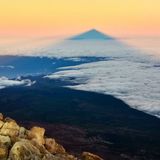 The previous shot shows the crater of the Pico Viejo volcano, whereas in this one, the shadow of Teide falls further to the north.
Votos(s): 31. Resultado: 3.52